Kerlan Publications
The Kerlan publications include digital and teaching resources, The ABC of It: Why Children's Books Matter, Writing Boxes: The Reading/Writing Connection in Libraries, and The Kerlan Collection newsletter.
The ABC of It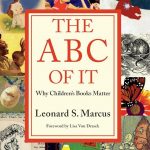 The catalog for our 2019 exhibit, curated by Leonard Marcus, is available from retailers nationwide and it may also be purchased from the University of Minnesota Press or downloaded for free from the University of Minnesota Libraries.
This Kerlan publication includes original artwork and materials that explores children's literature and its impact in society and culture over time.
For 14 months beginning in June 2013, the New York Public Library hosted an exhibition about the role of children's books in world culture and in our lives. Now with this book, a collaboration between the University of Minnesota's Kerlan Collection of Children's Literature and children's literature historian Leonard Marcus, the nostalgia and vision of that exhibit can be experienced anywhere.
What others are saying
"This is a book for the child in all of us—an exquisitely rendered volume that underscores the power of words and pictures to inspire, build, and transform."
—Andrea Davis Pinkney, New York Times bestselling author of A Poem for Peter: The Story of Ezra Jack Keats and the Creation of The Snowy Day
"WOW. Fascinating. Illuminating. And deeply entertaining. Required reading for anyone interested in children, reading, and/or children's reading."
—Jon Scieszka, Inaugural National Ambassador for Young People's Literature
"This is a piece of literature that should be in every school of education library and required reading for any student studying children's literature. Outstanding."
—Cynthia Weill, Director of the Center for Children's Literature at Bank Street College of Education
Writing Boxes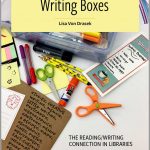 The Kerlan publication, Writing Boxes: The Reading/Writing Connection in Libraries, is a guidebook and source of programming inspiration for all librarians working with early to young adult readers. Librarians will find thematic, easy to implement, hour-long writing workshops that require only paper, markers, and excited young writers.
Writing Boxes, by Lisa Von Drasek, further explores the essential connection between reading and writing by pairing each workshop with mentor texts to model writing, providing librarians with exemplary books to spark writing responses across genres, formats, and curricula.
The Kerlan Collection newsletter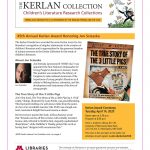 The Kerlan Collection newsletter is published twice a year and is distributed to Kerlan Friends. Each publication contains events, updates, news, new acquisitions, and other items and events related to the Kerlan.