The classic children's book Goodnight Moon by Margaret Wise Brown, Illustrated by Clement Hurd was published 75 years ago.
The Kerlan holds Clement Hurd's papers focusing on his work as an illustrator and author of children's books. The collection contains production material for 89 published and unpublished titles generously donated by himself and his son Thatcher.
Fun facts
Goodnight Moon was not a best seller when it was published. To date it has sold over 2 million copies and has never been out of print.
In 1935, the author began her writing for children as a student in Lucy Sprague Mitchell's school then called The Bureau of Educational Experiments, now known as Bank Street College of Education, a school for training teachers.
Illustrator Clement Hurd said in 1983 that initially the book was to be published using the pseudonym "Memory Ambrose" for Brown, with his illustrations credited to "Hurricane Jones"
It was not in the collections of the New York Public Library until the 1970s because one of the most influential librarians of the time, Anne Carrol Moore, disliked it.
The book has inspired over 20 parody titles including Goodnight Goon: A Petrifying Parody, Goodnight Batcave, Goodnight Loon, Goodnight Lab, Goodnight iPad: A Parody for the Next Generation, Goodnight Putter: A Bedtime Parody for the Golfer, Goodnight Unicorn: A Magical Parody, AND Goodnight Forest Moon: A StarWars parody available as a free download.
"In the great metal room
There was a comlink
And a tauntaun
And a holo-picture of—
The Executor flying over the forest moon"
About the author, Margaret Wise Brown
"A student of Mitchell's in the mid-1930s, Margaret Wise Brown arrived at Bank Street a gifted but mercurial and undisciplined writer. She left a published author of the utmost originality, and with a thorough grounding in the child-development theories that Mitchell had helped pioneer. In the lulling mantra that is Goodnight Moon, Brown fashioned the quintessential "here and now" bedtime ritual, evoking a small child's safe and secure world. Life's everyday necessities—food, clothing, and shelter—are all present and accounted for. In the best progressive manner, children are themselves encouraged to bid goodnight to each of them in turn, thereby making the Great Green Room their own."
—Leonard S.Marcus from The ABC of It : Why Children's Books Matter
About the artist, Clement Hurd
Clement Hurd (1908-1988) was an artist and an accomplished children's book illustrator. His wife, Posey (Edith-Thacher) (1910 -1997) was an author of children's books. By far the most popular of the books Clem illustrated is Goodnight Moon (first ©1947) which was written by Margaret Wise Brown. Between 1947 and 1990 4 million copies of Goodnight Moon had been sold. Another one of their collaborations was Run Away Bunny. Both of these books are classics and are still in print.
If I were to choose one image from The Kerlan, it would be this one. We can see the artist's process and experimentation. A map on the wall instead of a bookcase and picture that references the runaway bunny. The old lady whispering, "hush" is an actual lady not a bunny.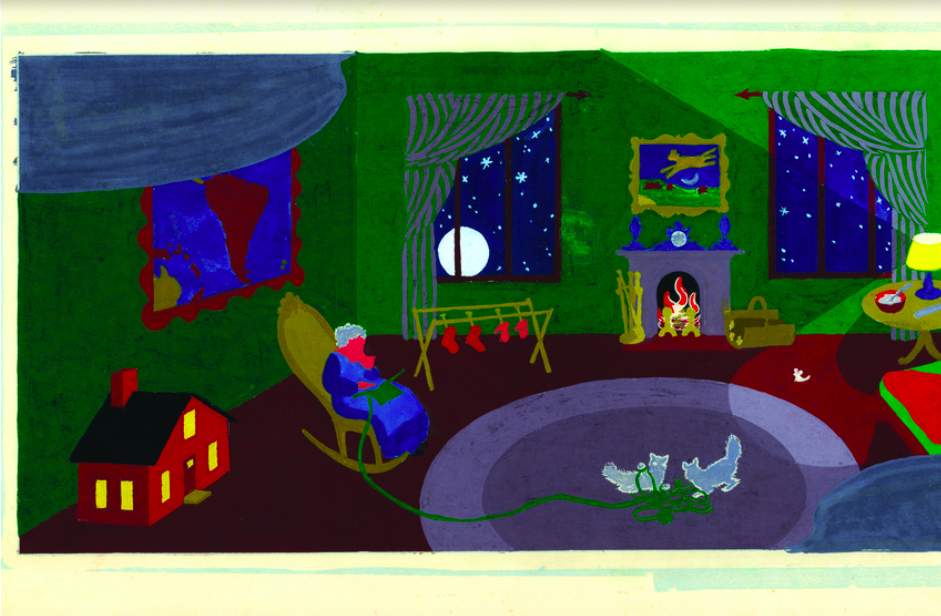 Support the Kerlan Endowed Chair
The Kerlan Collection is an internationally recognized children's literature library and archive that from its beginnings has benefited from outstanding curators. Help keep the Kerlan in the forefront of children's literature archives by donating to the Endowed Chair for the Kerlan Collection.
Give online
Give by mail
Checks can be made out to:
Kerlan Collection Endowment /
UMF Fund #24053
Mailing Address:
University of Minnesota Foundation
P.O. Box 860266
Minneapolis, MN 55486-0266