By Lisa Von Drasek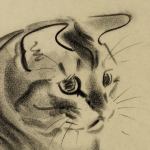 Clare Turlay Newberry, illustrator, author; Harper & Brothers, 1940; The Kerlan Collection, University of Minnesota Archives and Special Collections.
Charcoal was used in these black and white illustrations of a mother cat and her three kittens. School Library Journal deemed these "beautiful drawings, so real one wants to pet them. Clare Newberry's enchanting illustrations reflect her fondness for cats." Newberry noted, "I had loved cats all my life and had always put them into drawings and, in 1934, I began studying them seriously."
She added, "My greatest problem in cat-painting was making the fur look real and it took a good deal of experiment before I developed the watercolor technique used in "Mittens," "April's Kittens," "The Kittens' ABC," and other books. It is a very difficult and time-consuming method as I have to repeat the paintings many times to produce a satisfactory result."
About Clare Turlay Newberry
Clare Turlay Newberry was born in Enterprise, Ohio. She studied at the University of Oregon, School of the Portland Art Museum, California School of Fine Arts, and La Grand Chaumiere, Paris. At age 2, she began illustrating cats. At age 16, she sold her first drawings. An author and illustrator of 17 published children's books, she achieved fame for her drawings of cats, the subject of all but three of her books. Four of her works were named Caldecott Honor Books: "Barkis" (1938), "April's Kittens" (1940), "Marshmallow" (1942), and "Smudge" (1948).
Her main works were done between the 1930 and the 1960s. In "Something About the Author," Vol. 1 (1971), Clare says, "With the years, my style of illustration has changed. My first effort, 'Herbert the Lion,' was done in a careful manner. As I continued, I drew and painted more freely."
—Clare Turlay Newberry (1903-). "Something About the Author," edited by Anne Commire, vol. 1, Gale, 1971, pp. 170-171.
Support the Kerlan Endowed Chair
The Kerlan Collection is an internationally recognized children's literature library and archive that from its beginnings has benefited from outstanding curators. Help keep the Kerlan in the forefront of children's literature archives by donating to the Endowed Chair for the Kerlan Collection.
Give online
Give by mail
Checks can be made out to:
Kerlan Collection Endowment /
UMF Fund #24053
Mailing Address:
University of Minnesota Foundation
P.O. Box 860266
Minneapolis, MN 55486-0266